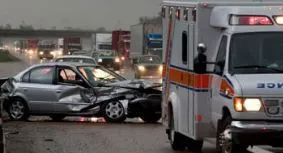 One moment everything may seem fine, when suddenly you're involved in a serious collision. Most people have one thing on their mind after a car accident--their car! However, it's important to remember that you and your injuries come first. A visit to a chiropractor should always follow an auto injury, as chiropractors are specialists in damage to soft and hard tissue.
How Can a Chiropractor Help Me After My Auto Accident?
Because many chronic health issues occur from traumatic physical events, we take auto accident injuries very seriously. Car accidents can cause severe trauma to the spine and nervous system. It's extremely important to care for your spine as soon after the accident as possible to ensure that the soft tissue does not heal in a malformed position. Common symptoms of trauma to the nervous system after such an event are sleepiness, dizziness, dull headaches, neck/back pain, loss of range of motion in the spine, numbness or tingling in the extremities, and more. The medical community will check for gross (or large) traumas like bone fractures, concussions, etc… Our office, which combines chiropractic and holistic primary care, will care for the "whole person" injured.