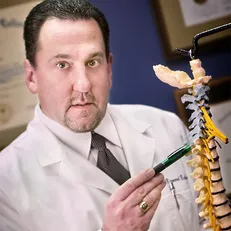 Dr. Bernard Bubanic
Chiropractic Physician
Whatever Dr. Bernard Bubanic does he is firm, positive and enthusiastic in his approach. "Remember, if yours is a chiropractic case, I will tell you, if not, I will tell you that too" is a popular statement Dr. Bubanic uses with his patients.
Dr. "B" attended Allegheny County Community College in Pennsylvania graduating with honors in Biology in 1982. He then graduated from Life Chiropractic College in Marietta, Georgia in 1986 with his Doctorate in Chiropractic and a Bachelor of Science in Nutrition. While attending Life Chiropractic College, Dr. Bubanic was very active serving in leadership roles. He was a Vice President and then President of the Student American Chiropractic Association and was head intern in the student Radiology Department his senior year. He also was co-founder of the Life Chiropractic College Ice Hockey Team.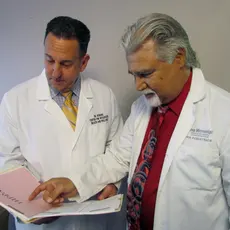 Dr. Bubanic began practice in Canton in 1987. Continuing where he left off in college, he began to serve his profession. He served as Vice President, President and Chairman of the Board of the North Central Academy of Chiropractic. He was a founding member of the Ohio State Chiropractic Association's Council on Sports Injuries and Physical Fitness and served as its first chairman. Dr. Bubanic also was District Director and Regional Director of the OSCA. He is a member of the American Chiropractic Association, and the Sports Injury Council of the ACA. Dr. Bubanic also developed and chaired the Sports Injury Education course for Northern Ohio. Striving to serve his patients to the highest ability, Dr. Bubanic became one of the first 100 Board Certified Chiropractic Sports Physicians in the United States (DACBSP).
Dr. Bubanic constantly strives to improve and update his knowledge in the field of chiropractic, health and sports medicine. In addition to the Diplomate of Sports Injuries certificate, he continues to pursue the latest training in the treatment and rehabilitation of whiplash injuries, headache, concussion, and back pain. He is, and has been, team chiropractic physician for the professional hockey teams of Cleveland, the Lumberjacks, Barons and Monsters (Calder Cup Champions 2016) as well as provided care to numerous other NHL players throughout the league.
---
Dr. Troy Bubanic
Chiropractic Physician
Dr. Troy Bubanic's chiropractic journey began the moment he was born and adjusted in the birth suite. He was around chiropractic his entire life due to his dad, Dr. "B" being a chiropractor. He very quickly fell in love with the profession from seeing all the benefits chiropractic can bring into someone's life and health. Dr. Troy also knows from personal experience how life-changing chiropractic can be. His entire life he played hockey, going up the ranks to playing minor professional hockey and whenever he was faced with injuries he always turned to chiropractic care to help him recover faster and get back on the ice as soon as possible.
Dr. Troy graduated from Jackson High School in 2009 and went on to attend college at Hamline University, Kent State University, and eventually finding his way down to Life University where he eventually got his chiropractic degree, graduating magna cum laude. While at Life University, Dr. Troy played on their club hockey team while attending numerous other clubs on campus to further his knowledge on adjusting techniques.
Dr. Troy believes in treating the patient as a whole and not just treating their pain, he believes that the power that made the body heals the body. Dr. Troy thrives for providing patients with individualized care plans that will benefit the patient and get them functioning to the best of their ability